SOAP MENU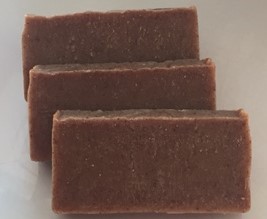 Madame-Monsieur (Patchouli-Bergamot)
This variety is scented with Dark patchouli and bergamot.  Dark patchouli has an intense earthy aroma, and this variety is   accented with a light citrus bergamot essential oil and colored with turmeric.  It is said that King Tut was buried with many vials of patchouli oil.  Bergamot is used today in many men's and women's colognes and perfumes.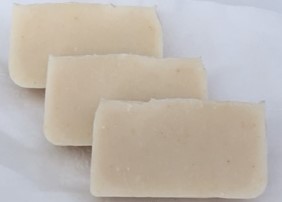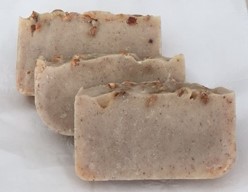 Oliban Savon (Frankincense-Ginger)
Foret d'orange (Cedarwood-Orange)
The distinct fruity and sweet scent of frankincense is  enhanced with a touch of powdered ginger and makes for a unique and spicy aroma.   Frankincense has been associated and used in spiritual practices for thousands of years
A sweet and woodsy smelling soap with cinnamon flecks throughout topped off with fragrant orange peel.  A unique and avant-garde fusion.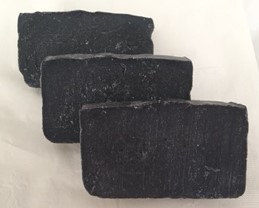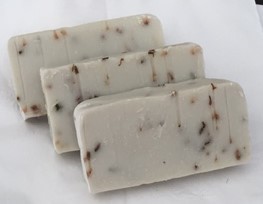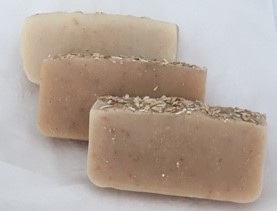 Papillon-Noir (Activated Charcoal-Orange)
Napoleon and Josephine (Rosemary-Lavender)​​
Abielles et Porridge (Honey-Oatmeal)
This Activated
​Charcoal bar, a known detoxifier, is infused with orange essential oil and is truly uplifting. The use of charcoal for medicinal purposes goes back to ancient Eqyptian times for various purposes and is still in use today.
This variety was inspired by one of the greatest love stories in history. Rosemary was purported to be Napoleon's prized cologne.  Josephine favored lavender and served it to Napoleon in hot chocolate before they settled down for the evening. This bar is infused with rosemary essential oil and sprinkled with lavender flowers and is also enhanced with bentonite clay.
This variety is favorite among people with fragrance sensitivities.  It has a touch of raw honey and ground oatmeal throughout.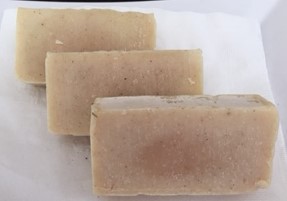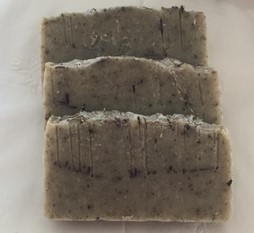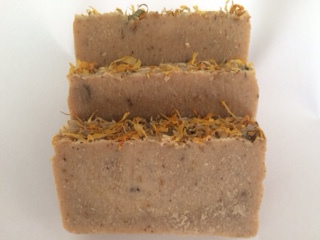 J'adore les Citrons (Lemon-Chamomile)
Medieval Harvest (Peppermint-Rosemary-Thyme)
Jardin Japonois (Green Tea-Calendula Flowers)
Castle gardens were central in medieval times for medicinal, culinary and household uses.  Here is a combination of three aromatic herbs used in medieval gardens that are common and popular today. It is infused with peppermint essential oil, colored and enhanced with finely ground thyme and rosemary leaves are scattered throughout the bar.
This soap is infused with green tea and  ground calendula flowers.   An earthy, lightly scented and gentle formula.
It is inspired by Monet's water garden at Giverny in France. Although most of Monet's work is inspired by nature, he had an interest in Japanese art.  His water garden was adorned with a Japanese bridge which was inspired by his collection of Japanese woodblock prints.
We visited a town in South of France called Menton that has a Lemon Festival each year. This area in France is one of the biggest Lemon producer in Europe. This variety of soap is refreshing and has a touch of ground chamomile to balance out the zing. One of my favorites!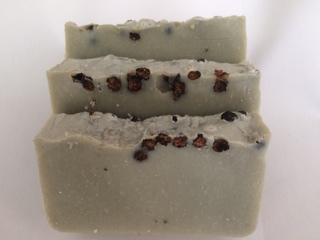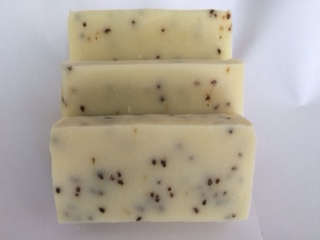 La Forêt (Pine,  Fir and Cypress)
Pastis (Anise and Orange)
A very  popular French  liqueur, Pastis, is  produced by the distillation of  an Asian herb, Star Anise, similar to the taste of licorice.   Here is a sans alcohol version infused with Star Anise and orange essential oil along with anise seeds. Simply delicious!
This soap is a blend of 3 conifer oils:  pine, fir needle and cypress essential oils as well as juniper berries peppered on top.  A reminder of a meander in the snow covered woods and reminiscent of the winter holidays.  Truly invigorating but not too overpowering.